Meditation in Hebden Bridge
Meditation has great health benefits
Meditation is widely known now to have great health benefits. It slows all the systems of the body down enabling stress reduction, recuperation and physical rejuvenation.
Meditation brings calm and peace to the mind
Meditation brings calm and peace to the mind, helping us to make more positive life choices.
Sleep patterns are restored as is our health. Creativity and intuition are accessed or strengthened.
Meditations guided to music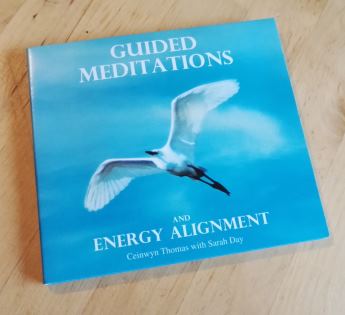 CD delivered by post
mp3 to download
Our Meditations are guided to music and are achieved through simple relaxation and practice.
No difficult postures or mantras are needed, giving easy access to all.
There are opportunities for your questions to be answered and advice can be given on personal practice.
Guided Meditations and Energy Alignment
This contains two Guided Meditations to music and an Energy Alignment.
The Energy Alignment (Track 1: 9 mins) can be listened to three times a day for optimum effect. Once learnt and practised regularly you will find your sleep pattern improves, stress is released and you will feel calmer and more focused. This is also a very effective tool against bullying and will increase energy levels.
The two Guided Meditations (Track 2: 23.50) (Track 3: 25.54) can be listened to once or twice a day. If you can't make a group or wish to learn on your own this CD is an ideal way to learn, yet is also just as beneficial to those who meditate regularly.
This is available as a CD (sent through the post) or an mp3 file (delivered electronically)
Group or individual meditation in Hebden Bridge
We can offer Meditations to your employees or group as well as individual tuition.
Where appropriate crystal Meditations can be offered to strengthen creative, intuitive spiritual connection.
Meditations are safe for all
Using the subtle anatomy of the human energy field our Meditations are safe for all and give easy access for further development at home.
Guided Meditations each Thursday Evening at the Hebden Therapy Centre
Doors open at 7.30pm for a prompt 7.45pm start and finish at 9.00pm.
The Thursday evening guided Meditations cost £4 and includes optional discussion and refreshments
Frequently Asked Questions – Guided Meditation
I can't stop my mind
Don't worry, guided meditations make it easier for the mind to have something to focus on and with practice, the mind can't wait to stop and take a well deserved rest.
I'm afraid of coughing or sneezing and disturbing others
Everyone coughs, sneezes or fidgets at times. They are just signs of the body releasing stress and it very rarely disturbs others.
I'm not good in groups
Although some people come regularly it isn't the same people every week. Everyone is very friendly and supportive. If you wish you can always leave immediately after the meditation if that makes you feel more comfortable.
I've never Meditated before
Our Meditations are accessible for everybody, no matter who you are, whether this is your first time or if you've been meditating for years.